I recently finished reading "Revealed Educational Principles" by Jack Monnett and have decided to consolidate the truth I've found in the book here on Lachoneus.org and to share some of the best parts in a series of small articles and quotes that are powerful and will resonate with liberty-minded Latter-Day Saints who are interested in knowing and moving towards ideals.  Here are some quotes from church leaders:
"We feel the time has arrived when the proper education of our children should be taken in hand by us as a people. Religious training is particularly excluded from the District Schools.  The perusal of books that we value as divine records is forbidden.  Our children, if left to the training they receive in these schools will grow up entirely ignorant of those principles of salvation for which the Latter Day Saints have made so many sacrifices.  To permit this condition of things to exist among us would be criminal."

–Wilford Woodruff, Circular Letter to Stake Presidents, June 8, 1888
The lesson:  As a people, we should (have) retain(ed) independent ownership the education of our children.  Not doing so negligently puts our children in our enemy's hands.
This letter encouraged the establishment of Stake Academies.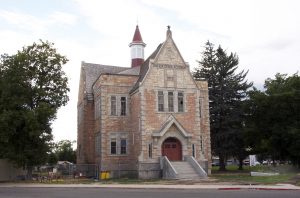 "Although infidelity is not directly taught in the public schools, its spirit is fostered by the exclusion of religious education. " — George Q. Cannon

"There are parents who are very favorable to their children receiving education, but appear to be indifferent as the character of the teaching which they receive.  They do not seem to place any value on their children being taught the principles of their religion.  Apparently, therefore, they would as soon their children be taught in schools or colleges where religion is entirely ignored as an academy taught by Latter-day Saints."  — George Q. Cannon

"..We should like to see schools of this character, independent of the District School System started in all places where it is possible." — John Taylor, 1886

" The idea that the religion of Christ is one thing and science is another is a mistaken idea for there is no true religion without true science and, consequently, there is no true science without religion."  — Brigham Young

" ..of great importance to all who [had] families [were] schoolbooks printed for the education of our children which [would] not be according to the gentile order."  … Saints should "..compile the teaching [and] preaching; adopting all the good and useful books we can obtain; and what we need and cannot obtain; make them." — Heber C. Kimball.